Awards season is upon us and that means endless gowns, tuxedos, critics and probably a fairly good bonus for all the paparazzo out there! I couldn't possibly discuss anything else for this week's Fashion Fridays post so here I'm going to highlight who I felt were the best and worst dressed at both the Critics' Choice Movie Awards and the Golden Globes Awards.
First up is the Golden Globes, which happened in California at the beginning of the week.
My first winner of the fashion stakes is the ever-sleek Reese Witherspoon. The colour of this Calvin Klein dress is bold yet not garish. The cut well suits her petite frame and the Harry Winston diamonds add just the right amount of sparkle.
Second up is Amy Adams. I developed a bit of a fascination with her boobs in
American Hustle
and this Valentino dress hasn't failed to disappoint in that area. I love the contrasting shades on her pale skin and the cut is graceful and elegant. I felt her hair let her down slightly - this up do is quite reminiscent of B*Witched (the Irish girl group) in the old days!
My third choice is always a winner - Sandra Bullock. Not only is she an amazing actress, she's a vision of beauty all the time. Her face does not tell her true age and she always picks dresses that suit her body and personality. Despite, what the critics have said, I am really drawn to this Prabal Gurung dress. I love the contrast of the black panel to the two pastel panels. I like the structure of the dress; it flatters her waist but also brings a bold presence to her outfit. Her hair, as usual, looks fabulous and glossy and I'm very jealous.
My final winner – and possibly my favourite dress of all time – is Kate Beckinsale. Thus far, there hasn't been a Zuhair Murad dress that I don't love and this one is continuing that trend. Though it looks heavy & must have been a pain to wear, I think this is just divine. The cut is the epitome of femininity. The top-to-toe bling sets my inner magpie alight yet its dark tone prevents it from being garish.

I'm not generally a big Zoe Saldana fan but I usually don't dislike her either. This dress, however... She's going to have to come out with a stunner next time to compensate for this shambles. I find it shocking that Prabal Gurung can make two dresses so vastly different and one so grotesque. The cut, the fabrics, the colours, none of it makes sense to me! It doesn't flatter her in anyway and looks a bit like the bit in Cinderella where her dress falls apart. Dislike
.
On a brighter note, let's move onto the winners of the Critic's Choice Awards.
My first winner for the Critics' Choice is completing her double-whammy of the week – Sandra Bullock. This burgundy Lanvin dress seemed to flow like a waterfall down her long, slender body. I'm not a fan of the clutch she added in but the belt gives a nice feature and draws the eye to her lovely waist.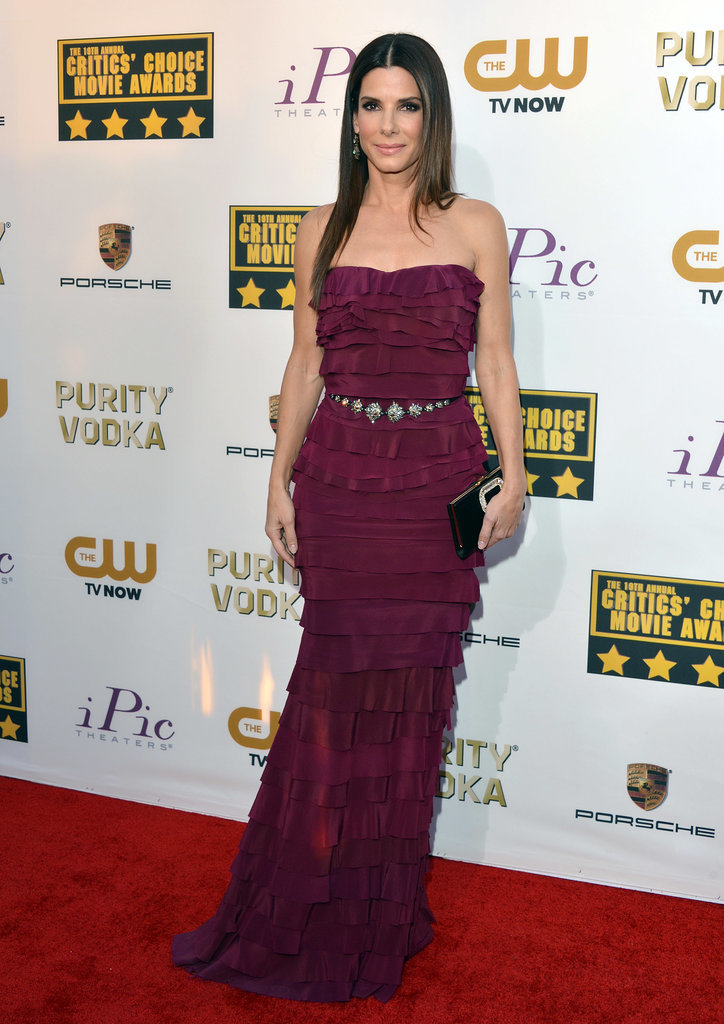 There really weren't many last night that caught my eye so I only have two but my second is another fabulous gown. Kirsten Bell was wearing an almost Gothic dress from designer Pamella Roland and something about it really catches my eye. I'm not sure if it's the slightly off-kilter neckline, the sequins or the long train but I just love this dress. Not a fan of her hair and makeup; it's all a bit harsh but the dress compensates for it.
Hands down, without a doubt, the worst outfit of the night, in my opinion, goes to Oprah. I feel like she has all the money, experience and years a woman could need to learn her style but still hasn't quite figured what suits her. Her boobs look fantastic but that's about it. The colour is drab and doesn't work with the highlights in her hair. The material looks cheap and the bow belt looks like it comes from Claire's Accessories. The changing hemline on the dress makes her look very bottom heavy and the gold clutch clashes with everything else. I'm disappointed.